Hello,
This post about my mesh network practical activity wich began about two months ago. Now it is incredible mix with wave theory, deployment issues and social challenges. Why? I would like to talk about the points below and share its history before. Lets begin from the background and main definition.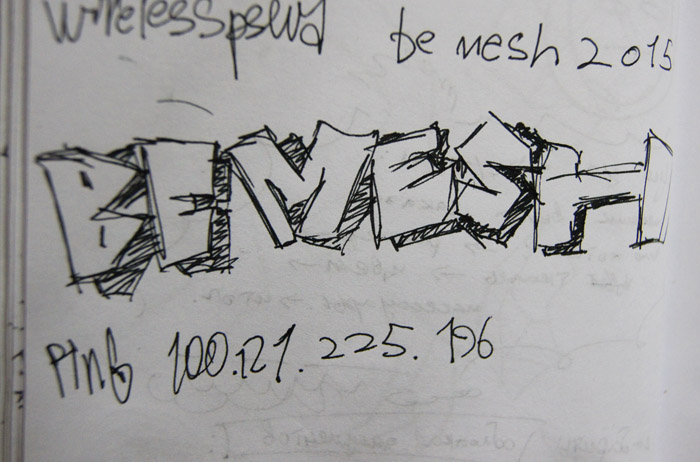 Mesh intro
First of all, what is a mesh network? It is a wireless network without hierarchy, where every node can have different roles as a router, a server, a client or a gateway. Mesh is a self-healing network. When someone switches off own his/her device, network continues to work. The non-hierarchical technology can help people to be owner their communication channels and distribute responsibility of the network uptime and about their basic freedom in community.
The Mesh Club. Origins and structure
February, 2015. I started the mesh club in the youth organization Falanster. I thought it is a good place for the mesh initiative in my country. Why? Because the Falanster have a progressive vision and mission: to help to develop and defend civil groups, communities and society using digital technologies.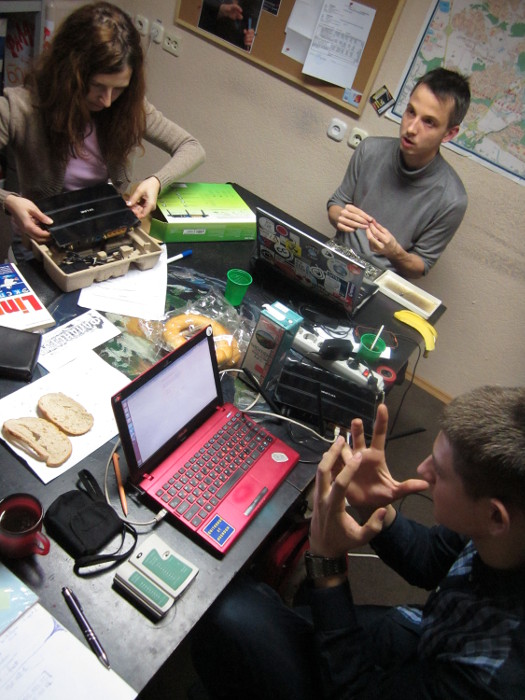 We divide mesh club activity on four main parts (branches). The first one is theoretical meetups where our knowledge about network basic are shared. The second one is a practical part which is saturated by work with different devices, firmware and networks application. The third one is social communication.
On this point I need to pay more attention. There are different street festivals, creative places, topic or local communities which have need to foster communication in their own networks. I live in Belarus, it is an Eastern European country, and there is a good internet penetration for householders (about 90%).
But there is one big issue here. All power for communication pertains to one state provider (ISP) who controls all external and huge part of internal traffic. It gives him opportunity to control communication and implement freedom of speech censorship. We started initiative which accumulate and spread knowledge about alternative network – a mesh network.
And the fourth branch for the mesh club's activity is to develop public wifi areas. For the case we will motivate people share their wifi for another people and to develop mesh activity in the most ready wifi areas in the Minsk (it is a capital). Yes we would like to begin free spectrum movement for free broadcast on wifi  frequencies (2,4  and 5 GHz).
Target points of mesh research
We have I little story of mesh implementation here.
The first place. It is a big hangar in the creative place CECH in the center of Minsk. There are many different events with a lot of people in the place especially in a warm period. We want to start one of our mesh experiment at the 16th of May during Share Youth Practices Festival.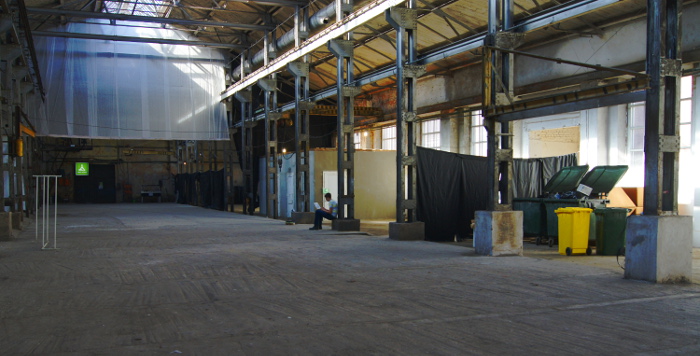 The second place. It is a big city park Loshitsa where inhabitants want to make festival for neighbors at the end of May. Several weeks ago we visited the place and made the recognition of the area for further mesh center (we entitle it as IT-tent) and wifi bridge to a potential gateway from an adjacent district.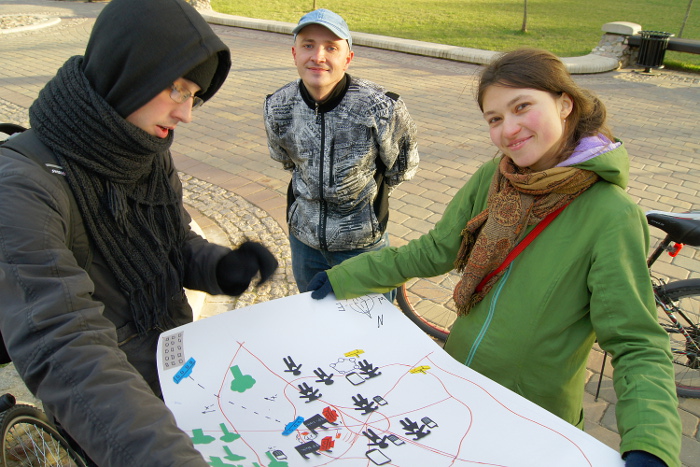 Mesh Game
We were inspired with "Every network tells a story" from the commotionwireless.net and developed Mesh-Game. It is a fork=))). Now when we are going to visit a new places for recognize, learn future conditions and people we will play the mesh game after this activity. As a result we have a diagram which, firstly, will help us in future deployment (we hope =)). Secondly, people from local and topic communities are engaged in design their future mesh network. It is a win-win way = fun and utility.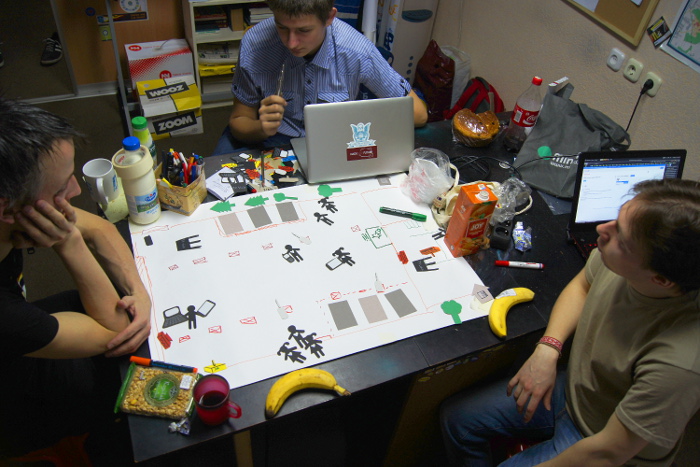 Technical issues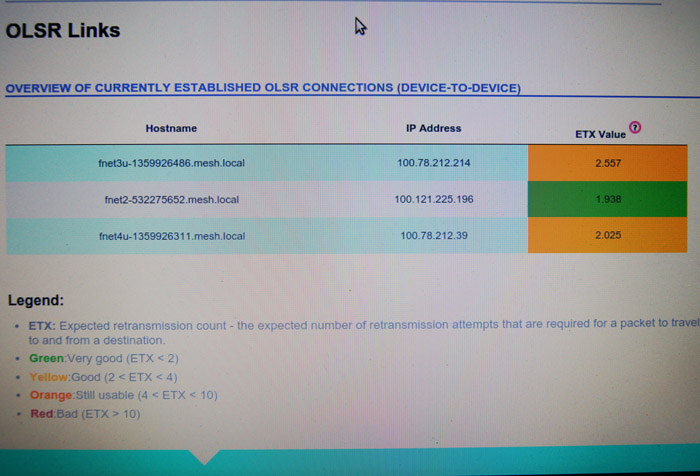 We focus on OLSR protocol and commotion firmware for our mesh networks therefore we pay more attention on the hardware which are supported by the openwrt distro.
Now we actively use TP-Link WDR4300 router as a Node and an Access Point in one device. Ubiquiti Nanostation M2 routers are for a bridge, for example, to transmit wave on big distances to the gateway (broadcast internet access point) or for wifi wave-bombing thick stone or brick walls.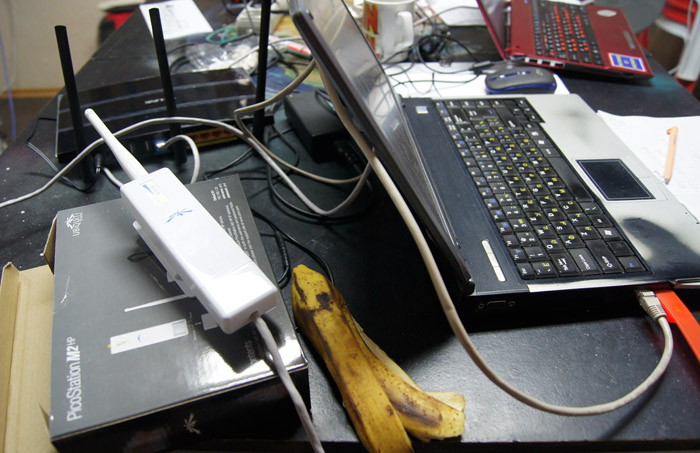 We have few Picostation routers but now I'm very skeptical about these devices. I doubt that it will work stable for huge crowd of users during festivals. In additional it can work just in one mode (antenna) either a Node or an Access Point and cover small area (30-50 m in radius). May be you have another viewpoints and experience.
As gateway we utilize local produced routers or such devices as TP-Link MR2040 or HUAWEJ with 3G functionality.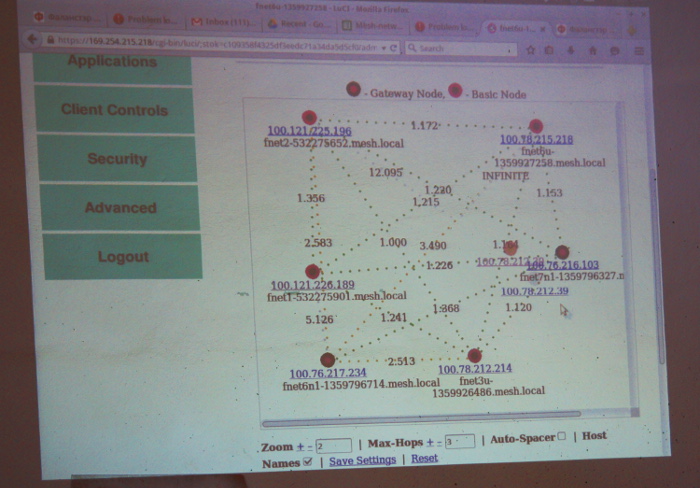 For our application servers we are going to use arm-computers such as cubieboards, hackberry and raspberry pi 2 B+. I thought it can be useful for not big events. We think about a server from external network (WAN) for more loaded events (i.e. hackathons) where different applications will be hosted.
Now there is an issue how to control the limit of traffic on each gateway and on each peer (client). For example, we switch on two-four 3G-modems in the whole mesh network.
What application will we install? To be truth it is a complex question. Yes, we can implement a web server, some chat, e.g. mediagrid or some collaborative tools such as etherpad. But we don't know precisely what tools will be needed by festival community. It is enigma for practice). I think the research will be ad-hoc.
Social challenges
We will manage with hardware stuff during next weeks. The hardest issue in the moment it is social patterns, habits and stereotypes. When we communicate with different communities they understand any networks as capability to have an Internet access. They don't understand why they need to use network functionality, if the Internet exists. And they see all our efforts as it is guys which want to provide internet access for free. Their understanding can be described with simple formula: mesh = wifi = internet.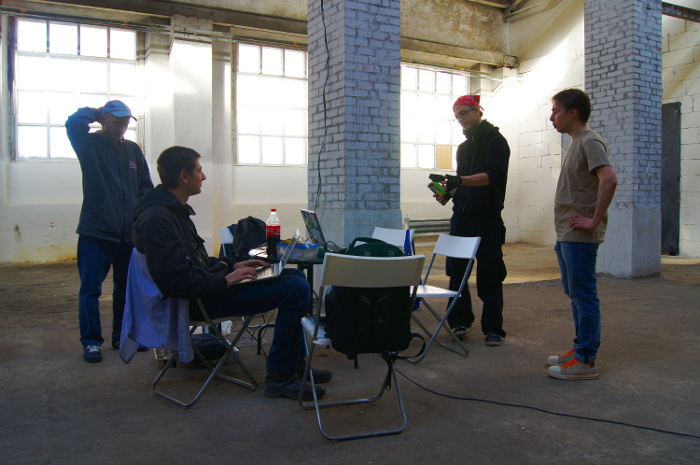 Other issue is hardware. The commotion software has short range of supported router models. It is a huge issue for people who don't have extra expenses to change their usual router (or imposed by provider) and understanding of changing attitude to the traditional ISP. Therefore now we focused on street festival mesh activities. It is more fluent area for flexible mesh strategies.
As a conclusion
We've just started mesh adventure and we will meet variety of social issues in our meshification way. It is very interesting process to open opportunities. My reader, I will keep you in the loop about our successes and trouble. I will be curious to read your mesh experience and experiments. Be in touch!
Be mesh!
PS
More pictures in the galleries:
Pictures are provided by imfantina under Creative Commons BY-SA.